Home
Giant Alaskan Malamute
Puppies Available
Giant Alaskan Malamute
Past Puppies
MalAMail
Malamute Postcards







Click on puppy name at bottom of page to see the puppy of your choice
Hudson's Malamutes - Past Alaskan Malamute Puppies - Page 73
Send us your Kindergarten & Obedience Graduation photos!!
Moses
Wolf Gray Alaskan Malamute - Open Face
Wolf Gray - Gray guard hairs with light gray, cream or white undercoat. Some black hairs on the topline.
Open Face - A cap covering the head with no other markings on the face

Xadie & Takoma are dad & mom
| | |
| --- | --- |
| Moses | Moses |
Hello! Well Moses is doing great and having a great time. We start Puppy kindergarden on Sunday and we are also going to train him in defense. He is going to be a really big boy. He is already at nine weeks old 25lbs and 15" at the shoulder. He is getting along great with our other dog Blondie, but we did have an incident. He was getting in her face and wouldn't stop. She reminded him that she is older and bigger for now. He also loves our three cats, but I think we may have to get him a stuffed one because he loves to play with them, but he is a little big and rough for them. Here are some pictures.

Joseph Miller

| | |
| --- | --- |
| Moses | Moses |
| | |
| --- | --- |
| Moses | Moses |
Hello Jolene!

Well Moses is getting bigger and bigger by the day. We just finished up with our last set of puppy shots and tipped the scales at 55.6 lbs. He is also 19.5 inches at the shoulder. He is a big boy. He is loving it here and has become a huge daddy's boy. Loves mom and the baby, but is my dog by a lot. He is doing very well with his puppy kindergarten. The only problem we had was with his leash training. He just wants to pull like crazy! Kinda in his blood. We went with a gentle lead and it works great. I would def suggest it to anybody with one of these great pulling dogs. We do think that we are going to get him into weight pulling. Any suggestions would be great. He is still a little bit of a talker and tells us he loves us all of the time. Very cute. He also is getting along great with our older dog and three cats. He likes to play with the cats, but they are intimidated by his size. Good thing that they are declawed or this little guy wouldn't have a nose

! We don't let him chase them, but they do play on the cat's terms. He also loves to run in the back yard with our older dog Blondie. She loves him and is so worried when we leave with him that she must check everything before we go and moves us out of the way to check him when we get back. We went to a Yappy Days show here in town today and he was a hit. He turned heads all day long and everyone wanted to pet him. We ran into a lady that had two mals and he was almost as big as both of them. I now that yours are giants, but that solidified it in our minds. The lady couldn't believe he was only four months old. Moses is being a very good boy and only chews on his own toys. We do have an issue with sticks in our back yard....actually they are branches. They are huge and he just drags them around. He is a lot of fun and we love him very much. We our older girl Blondie passes away we may get Moses a new girlfriend from you. We will cross that bridge much later we hope. Here are some pictures of Moses...we call him our little Mo Mo. Hope all is well with you and we check your site daily for updates and pictures of the new kids.

Joseph Miller

| | |
| --- | --- |
| Moses | Moses |
Moses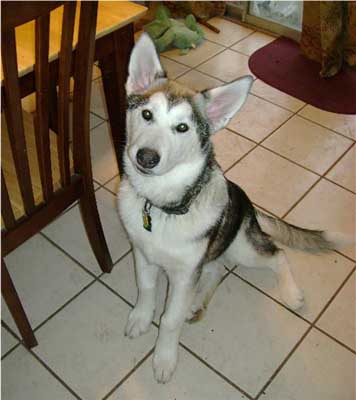 moses 4.5 mo old. aprx. 60lbs

Joseph Miller March 28, 2007

| | |
| --- | --- |
| Moses | Moses |
moses. 5 mo. old.

moses loves his chick stuffed animal. it's pretty funny to see him play w/ it. he is doing a lot better. he sits, stays, down, drop it, gentle. he is very good w/ our son. he still tries to play w/ the cats but i don't think he's trying to kill them anymore.:)

Joseph Miller April 23, 2007

| | |
| --- | --- |
| Moses | Moses |
| | |
| --- | --- |
| Moses | Moses |
hi Jolene!

well Moses is 6 mo. old now. we just took him to the vet to "weigh in" ha ha...the vet about hit the floor. she said " is that Moses?!" he is 26.5 inches at the shoulder and 86.4 lbs. again, 6 mo. old! ha ha. he is being such a good boy. we move to WA in a few months and he will love his first winter. these photos do NO justice to how big he is in person but we thought we'd send them for his past puppy page anyways.

his training is great, well, still working on leash training and coming when called but everything else he does. he does have the traditional malamute stubbornness and decides when he is tired he doesn't have to get up and go to his kennel for bedtime or when we leave. let me tell you how not fun or easy it is to pick his lazy butt up. ha ha. he constantly amuses us. he gets his nuter surgery in july. looking forward to that being done and over with and hoping it will calm him down a little and help him keep his little you know what from popping out all the time! geez! men! j/k. ok well again, the pix arent' that great but it's the best we could get w/ him. we just got home from a long walk so all's he wanted to do was sleep.

we will send more next month when he turns 7mo. thanks!

Joe & Megan May 12, 2007

| | |
| --- | --- |
| Moses | Moses |
| | |
| --- | --- |
| Moses | Moses |
Moses. 6.5 mo. old 93 lbs 27 in. at shoulder.

he is a special one alright. he loves our cat destiny. wants to lick her all the time. she likes him for the most part too. he still thinks his tail is a chew toy....he is smart in all other areas but that. :) enjoy. he's a fun boy. big boy too. i can't believe he's only 6 mo old!

Joseph Miller May 31, 2007

| | |
| --- | --- |
| Moses | Moses |
hey joleen,

here are a few pix of moses at 7 mo. old. he just turned 7mo. he is 100 lbs and 28 in. at the shoulder.

he got a new moose chew toy today from pet smart that he LOVES which you will see. he's so cute. clumsy but cute. haha.

i joined a group on facebook.com called alaskan malamute owners. there are about 272 members. i dropped your kennels name and a good report on it. they have members all over the world. mostly america and canada though. not that you need more business, your dogs fly out the door, but it may be something you want to join. it would be a HOT market to sell from if you joined the group. if you are too busy no worries, i drop your name all over it as a customer and will contn' to do so. just wanted to share it w/ you though. again, you would have to make a facebook.com account then from there you click on groups and type in alaskan malamute owners. then click join.

moses goes in to be "fixed" in a few weeks. he's still just the biggest baby you have ever met. it's quiet pathetic in a cute way. haha. he is SO dramatic. it's unbelivable. haha. he's very, very VERY attatched to my husband. prob. b/c joe wrestles w/ him every night and they bond a lot more. he still loves to bark but it's getting better. he is a big talker too. loves to sass back. we are looking forward to getting to WA state so he can be outside more.

well i have to run. talk to you next mo. w/ 8 mo.old pix! :)

Megan June 16, 2007

| | |
| --- | --- |
| Moses | Moses |
Joleen,

one from the drive to WA and another of him sleeping on our new living room floor. he is aprx. 105 lbs. 29 and a half in. at shoulder.

more to come once we get settled a bit! :)

Megan August 19, 2007

More Previous Pups! - Page 1 Page 2 Page 3 Page 4 Page 5 Page 6 Page 7 Page 8 Page 9 Page 10 Page 11 Page 12 Page 13 Page 14 Page 15 Page 16 Page 17 Page 18 Page 19 Page 20 Page 21 Page 22 Page 23 Page 24 Page 25 Page 26 Page 27 Page 28 Page 29 Page 30 Page 32 Page 33 Page 34 Page 35 Page 36 Page 37 Page 38 Page 39 Page 40 Page 41 Page 36 Page 37 Page 38 Page 39 Page 40 Page 41 Page 42 Page 43 Page 44 Page 45 Page 46 Page 47 Page 48 Page 49 Page 50 Page 51 Page 52 Page 53 Page 54 Page 55 Page 56 Page 57 Page 58 Page 59 Page 60 Page 61 Page 62 Page 63 Page 64 Page 65 Page 66 Page 67 Page 68 Page 69 Page 70 Page 71 Page 72 Page 73 Page 74 Page 75 Page 76 Page 77 Page 78 Page 79 Page 80 Page 81 Page 82 Page 83 Page 84 Page 85 Page 86 Page 87 Page 88 Page 89 Page 90 Page 91 Page 92 Page 93 Page 94 Page 95 Page 96 Page 97 Page 98 Page 99 Page 100 Page 101 Page 102 Page 103 Page 104 Page 105 Page 106 Page 107 Page 108 Page 109 Page 110 Page 111 Page 112 Page 113 Page 114 Page 115 Page 116 Page 117 Page 118 Page 119 Page 120 Page 121 Page 122 Page 123 Page 124 Page 125 Page 126 Page 127 Page 128 Page 129 Page 130 Page 131 Page 132 Page 133 Page 134 Page 135 Page 136 Page 137 Page 138
or look them up by puppy name
Abby Ace Ah-me Aikido Alpha AnnaBella Bear Apache Apache Nyga Apollo Aspen Aspen Ebony Aspen Isis Athena Atlas Atka Augusta Augustus Baloo Balou Bandit Bandit Beignet Bella Blizzard Bojangles Boris Callie Casey Cash Chalali Chinook Cimarron Cinnabar Clicquot Cowboy Dakota Dakota Nyga Dakota Cherokee Damnit Danali (Zawarah) Danali Daulton Diamond Dozer Duke Fenwick Foxy Grizzley Gumbo Gunner Harley Huan Hunter Java Icy Jill Jinx Juliette Juneau Juneau R-Tic Juneau Judo Juno Kaskae Kaydan Kayobi Keara Jade Kenzi Khali Kina Kindred Kip Kissa Kita Koa Koda (Keva - LA) Koda (Keva - ME) Koda (Zawarah) Kodi Legs Kodi (Ruby) Kodi (Shahana) Kodi (KuBear) Kodi (Okoee) Kodiak (Laney) Kodiak (Tawnie) Kodiak (Zawarah) Kozei Kujo Kulmalla Kury Lacey Lakota Laiya Leia Leta Lex Logan Loki Loki Kayobi Maui Maya Meeka Mia Meika Miki Miko Mikou Misty Mojo Moses Murray Nanuq Nicko Nikko Niko Noel Odin Oreo Panda Phoenix Promise Raiden Rastus Reba Rebel Riku Riley Rocky Rukus Sahara Sasha Sasha red Samson Sebastian Sebastian (Isis) Serenity Snow Angel Shadow Shila Shiloh Shtiya Shuka Siku Sitka Sitka (Shinook) Smokey Sophie Spirit Spynx Odin Summer Taku Talon Blaze Tango Tank Tayen Tikaani (Tiki) Thor Thor Ruby Thunder Timber Timber (Shinook) Tyko Ukiah Baby Vito Werther Whilloughby Willow Yogi Yukon Zeus Zeus Keva Zoey
Puppy Kindergarten Graduate Photos Basic Obedience Graduate Photos
Psalm 115:1
Not to us, O Lord, but to you goes all the glory for your unfailing love and faithfulness.
© 2004-2021 Jolene Houghtaling
Hudsons Huskies and Malamutes
P.O. Box 241
Baxter, TN 38544
(931) 432-0955
jhoughtaling@charter.net